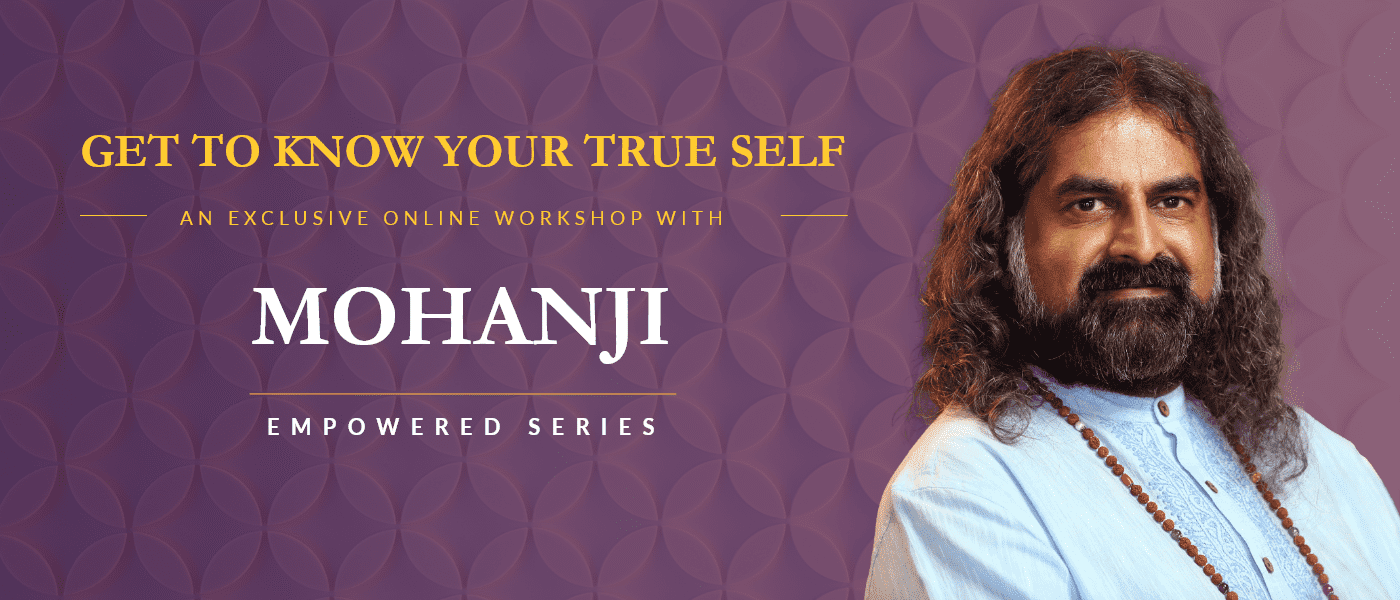 Do you realise that

YOU ARE

the most

POWERFUL

, most unique being in existence?
What does it take to

REMEMBER

that?
What does it take to

LIVE

that fully?
What does it take to live a

LIFE

of spontaneity, fearlessness, freedom and joy?
This is a RARE and EXCITING opportunity to embark on a journey of SELF EXPLORATION and SELF-DISCOVERY.
This is an intensive online course where Mohanji will guide you and share techniques that will empower you, transform you and BRING YOU HOME to yourself.
How to elevate your frequency.

Techniques to maintain your frequency and inner levels of purity.

Techniques to help you be in the present moment.

Identify distractions in life and be more focused on life goals.

How to fully accept and flow through life situations with ease.

Identifying patterns that inhibit self growth and how to break free from limiting patterns.

Break free from the outside world and establish inner silence and peace.

How to truly let go of past traumatic experiences and use challenges as opportunities for spiritual elevation.
Through these online sessions, you get to receive Mohanji's guidance directly, almost like a one-on-one session in the comfort of your home. No travel, no sharing! Further, you can decide which time of the day best suits you for this session – a dedicated 90 minutes a day just for yourself. You can watch, re-watch, listen and contemplate; allow yourself to absorb the content as much as you want. 'Gift' yourself this opportunity now!
Participants from Empowered 1.0
I am very grateful to Mohanji for this opportunity. I already feel a big change in perception and acceptance. I feel his energy flow, helping me get rid of unnecessary patterns and be more authentic. I'm already attuned to his advice to feel others more.
My channels and blockages have opened up since yesterday. Today, my work was acknowledged and appreciated in front of my entire team. Mohanji has cleared and opened up my channels. I am grateful
I am happy to find a well-defined path for my ultimate goal. I am not scared anymore of being lost or falling again.
Words cannot describe the happiness and bliss that I felt during the sessions, the empty feeling, the lightness and happiness. He is boldly leading us from utter confusion to ultimate truth by showing us how to change our pulling habits, patterns, and deep wounds that bind us here.
Excellent eye-opening and thought-provoking sessions that make you do the work!
I had a very productive day after contemplating non-procrastination. I sat for most of the day working on filing papers that have been accumulating for months. I have more clarity of mind. When I see untidiness around me that I've lived with, my mind recognizes it and contemplates ways to get rid of it. There are moments where I've become energized and then set out to put right what is askew.
It's really helping me remove all my fears in my working environment.
I received crisp, practical, insightful nuggets of wisdom.
Mohanji is immensely insightful in understanding the root of human predicaments. The clearance of our vast baggage commences with his masterly guidance.
"If you want to unleash yourself completely, you need to unhook yourself from your past." - Mohanji
You will receive 11 videos for 11 days + bonus videos of the Q&A sessions
Details provided to registered participants on payment
Recordings will be made available for a limited duration, three months from purchase.
This timeframe will give you enough time to practice exercises as prescribed by Mohanji, offline every day as per your own schedule.
For more details, please email "events@mohanji.org"
Minimum contribution of 95 Euros.
Any higher contribution is highly appreciated, as every contribution goes towards benevolent activities by the Mohanji Foundation.
"Freedom is not the freedom of the senses or mind to roam over sensory objects. Real freedom is freedom from the senses and mind. Freedom is not the freedom of the mind, it is from the mind." - Mohanji