You must be very clear on the purpose and reason behind every activity that is performed, so that you can explain to your children and future generations. Don't do any rituals just for the sake of doing it." Devotees then requested Mohanji to kindly explain the meaning of "Guru Paada Puja" and the significance of performing this ritual.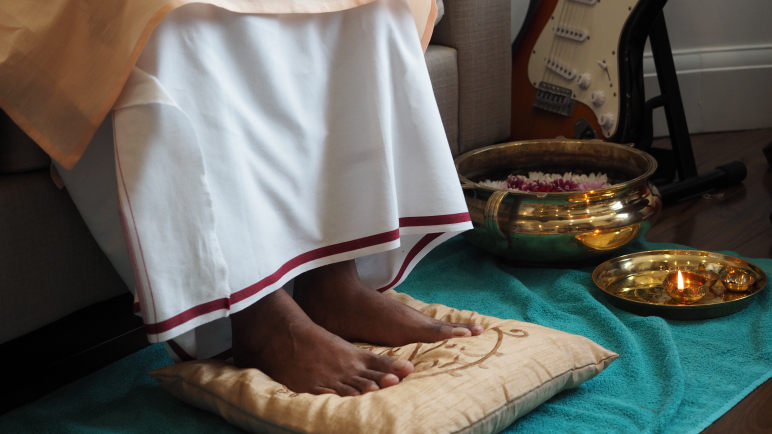 During the recent visit of Mohanji to UK, few devotees wished to perform Mohanji's Paada Puja. Mohanji kindly agreed to it. With a short notice, in the morning of 9th August, this programme was arranged and few devotees gathered. With utmost reverence and devotion, devotees arranged all the essentials required for the ritual. Flowers, Dipam, water, turmeric water and Kumkum water, fruits, dry fruits, were kept ready.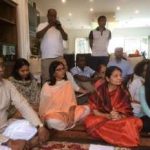 Devotees sat and waited for Mohanji to come and take his seat. Mohanji came into the room glowing like the warm morning Sun brightening up not just the room but the moods of everyone present there. With a smile that can melt millions of hearts but shining eyes with a bright aura around, Mohanji took his seat and asked, "Why do you all want to do this Paada Puja?
You must be very clear on the purpose and reason behind every activity that is performed, so that you can explain to your children and future generations. Don't do any rituals just for the sake of doing it." Devotees then requested Mohanji to kindly explain the meaning of "Guru Paada Puja" and the significance of performing this ritual.
A ritual soon turned into a satsang bringing clarity about this pure and authentic tradition which has been followed through ages! After the satsang, every one with much clarity on the significance of Paada Puja, then performed Mohanji's Paada Puja with pure devotion and total surrender to the Guru and Guru Tatwa.
Amidst the chants of Mohanji Ashotottari and Guru Paduka Stotram, Mohanji's lotus feet were not just washed with the water and flowers but with the pure tears flowing out of devotees eyes with love, devotion and surrender.
The simple Paad Puja ceremony became a highly powerful ceremony charged with immense love from the devotees to their Guru and from Mohanji to all.
Following is the transcription of what Mohanji explained to all regarding "Why Paada Puja?".
Q: Why do we need to do Guru Paada Puja?
Mohanji's Explanation:
"The Upanishad teaches us to ask questions and not to blindly believe. You must ask questions in order to be aware and to strengthen and deepen your awareness so that we can provide a perceptive explanation for future generations of the reasons for every action and ritual you perform.
The three reasons behind the Guru Paada Puja ritual:
Firstly, you must consider that the person whose feet you are washing is in a state of supreme consciousness. So, when you're washing the feet, you're washing the feet of this state of supreme consciousness; of being in complete balance.
Secondly, consider the contribution of this individual in society and in your life. What is the highest contribution of Mohanji? Take it in a tangible format. It's not my teachings. It is Mohanji, The Platform. Why do you need a platform? Don't you already have a platform? You already have a platform called life. Karma is a platform, right? Karma created you. Karma is maintaining you and karma will dissolve you. Therefore, you have a platform. Then why do you need another platform called Mohanji? What is the Mohanji Platform going to do for you? It's very simple. For example, why do you do a job? To get money, to take care of the family and to have a life. Similarly, when you have a platform which is giving you an opportunity for selflessness, you are earning a spiritual 'bank balance'. What is the advantage of a spiritual bank balance? A literal bank balance, we already know, can buy you a certain gratification that is tangible to the senses. A spiritual bank balance?
This is what helps your ancestors, people who died before you in your lineage. When you do good work, you earn spiritual bank balance. Take, for example, our houses. Your parents, grandparents and so on are all in your house. When you cook food, everybody eats, not just you. It never happens that way, right? In the same way, the spiritual bank balance also goes to the ancestors. Imagine that this is one platform where your ancestors and their ancestors are all present. Because you are a part of a lineage, they all benefit. The ancestors are happy because they release themselves from so many things they couldn't do. You are not separate from your ancestors. Your father and mother are integrated into you. So, don't look at them as other people. Even your grandparents and their grandparents are all integrated with you. It is because of them that you are here.
The same applies with the next generation; your children, their children. You are also integrated with them. When you do good work (not just Paada Puja, Paada Puja is symbolic) within a platform in the name of a guru as a selfless act, it helps the spiritual bank balance grow and this will help the next generation.
Thirdly, when you die, you carry this bank balance along. This is called Punya. So, in your next life you already have something to work with. There is some money in your account.
So, you have three levels of stability that you can create for your existence. These three levels are: ancestral, the next generation and your own continuation of existence. Through this symbolic Paada Puja, you honour the individual who was stabilising you in these three levels.
For example, it is because of the CEO, owner or founder of your place of work that you have a job. You don't have to wash his feet all the time, but if you have a reverence in mind, it helps; "I never created the company. I never created anything. But because it existed, I survive."
This is the best and most tangible awareness. If you are able to explain this to your children, they will understand the reverence between generations. They will understand and will not think that they are individuals that can do whatever they like. Whilst they can do whatever they like, there are repercussions which will affect your ancestors and the future generations, and you also carry the repercussions of whatever you do.
We are talking about a platform which is pure and what you earn from here is legitimate currency. When you do selfless things, there is a brightness, an energy happening within you. In this environment, if you continuously perform this, even in thoughts, words or actions, it creates a positive energy. For example, if you are criticizing, accusing or judging, or you are taking revenge on someone, it creates a negative energy within  you that can be transmitted to your children. This may cause these children to throw you out because they are nurturing this negativity. That is why it is common that there are bitter fights between parents and children.
Also, understand that this is an individual journey that nobody can walk on your behalf. If I have to exercise, I should exercise. You can't exercise on my behalf. It's always individualistic. Development is also individualistic. Evolution and dissolution are individualistic. Therefore, it is important to stay pure inside. No bad thoughts, bad actions or bad expressions. Be positive so that the lineage becomes very happy. As they say, "amrutya putra", meaning son or child almost like nectar. People say that if a person is born in a family with that kind of power, a minimum of seven generations before and seven generations after will benefit. So, depending on the intensity of your avatar or incarnation, further generations will benefit, not only your own family. Because of your existence, so many people will benefit. Then, the accumulated bank balance is much higher. That is the whole point.
How do you know that this is all real? Your level of contentment within your life will tell you that you are doing the right thing. If you're angry, agitated, etc., you're definitely not doing the right thing. Instead, if you're happy, peaceful and content, then it's a sign of perfect action.
It's important to understand that every activity has a purpose. How do you express that you are grateful? One of the ways you can express is by this ritual. There are other ways too. Most importantly, giving the teaching is your greatest expression.
You should be able to explain this to your children, grandchildren or others in that way that will enable them to understand the benefit of an activity. Don't include anybody in a ritual without an explanation because without proper understanding, they will reject it and become averse to it."
Devi's experience sharing on Paada Puja
"My first ever Paada Puja was a few years back, in Muscat. In all honesty, I was not familiar with the whole ritual, so I was kind of on the side. At the time I was pregnant with Mila.
It was a much elaborated Paada Puja during Guru Poornima . With time, as they were performing it, I felt a lot of beautiful energy and understood that the truth that we focus on, becomes our reality and we can actually penetrate it. Where ever the attention goes, the energy goes as well. One thus understands that the feet of the master are the tangible representation of an expanded consciousness of master. At this moment, I realised that it's not Mohanji as a person sitting before me, it's that consciousness. So, as I was doing the Paada Puja, I followed the instructions for the way it is supposed to be done and I kept feeling that energy. At one point, I felt inner guidance that I should put my Ajna chakra (third eye) on the big toe. I did that. While my third eye touched Mohanji's big toe,  I felt as if I was receiving hundred Shaktipats! I could feel a huge energy transfer happened.
Then, I sat and I went straight into samadhi state for an hour or so. It felt as if somebody had put a glass ceiling around me, and within that glass ceiling, there was no sound or breath, there was just stillness. I could hear that there were people in the room, but it felt as if they were outside the glass ceiling and it was amazing. I just totally did not want to come out of it.
My understanding from this experience was that, when we do any ritual, we should always look at the essence of feelings from the heart rather than be mentally preoccupied with the process and the proper way to perform it. People often get lost in the process, but they don't feel the essence of the sacred ritual. it's not about the rules and regulations. It's about how you feel and connect to the purpose of the ritual and then doing it through your heart. That gives the maximum benefit in whatever the purpose behind it."
||JAI BRAHMARISHI MOHANJI||