Earth Day speech | Mohanji
South Africa, 23rd April 2023
Mohanji's speech in honour of Earth Day, where Mohanji Foundation South Africa, in collaboration with the 𝗣𝗿𝗶𝗻𝗰𝗲 𝗠𝗮𝗻𝗴𝗼𝘀𝘂𝘁𝗵𝘂 𝗕𝘂𝘁𝗵𝗲𝗹𝗲𝘇𝗶 𝗙𝗼𝘂𝗻𝗱𝗮𝘁𝗶𝗼𝗻 and the 𝗦𝗵𝗶𝗿𝗱𝗶 𝗦𝗮𝗶 𝗕𝗮𝗯𝗮 𝘁𝗲𝗺𝗽𝗹𝗲 (Mohanji Centre of Benevolence in South Africa) celebrated 𝗘𝗮𝗿𝘁𝗵 𝗗𝗮𝘆 at the temple in Nonoti, Stanger.
Fruit tree plantation: Setting the context
Sulosh Pillay: (introduction) Welcome to the Mohanji Centre of Benevolence. My name is Sulosh Pillay. I'm leading the project on the Center of Benevolence. On my right-hand side, see the chairperson for the Mohanji Foundation, Lakshmi Mohanananda, and we welcome all of you here today.
But before we do, we would like to bring in our Guru and our Master, who is a global humanitarian dedicated to saving this planet and this world. We have a program that is currently running throughout the world called the tree planting project, where we go out globally and plant trees. We plant fruit trees so that it's sustainable and it sustains neighbourhood people as well, whoever doesn't have food.
This is a tangible way where we can deliver food to people. Fruits, as you know, are very nutritious and can sustain everyone. As we know, Mother Earth has taken a real beating right now. As a result of this, Mohanji, who is a humanitarian but mostly an environment lover, wanted to make sure that we are bringing stability back to the planet, and hence we have it here. Let us welcome him via the live stream. Namaste Mohanji!
The fruits of Mohanji's labour
Mohanji: I hope you can hear me. Are you able to hear me?
Thank you to all the dignitaries, honourable 𝗣𝗿𝗶𝗻𝗰𝗲 𝗕𝘂𝘁𝗵𝗲𝗹𝗲𝘇𝗶, honourable 𝗙. 𝗛𝗹𝗮𝗯𝗶𝘀𝗮 and, of course, our dearest friend, honourable 𝗠𝗣 𝗠𝗿 𝗡𝗮𝗿𝗲𝗻dra 𝗦𝗶𝗻𝗴𝗵 and speaker of the house Kwaduguza, 𝗠𝘀. 𝗗𝗼𝗹𝗹𝘆 𝗚𝗼𝘃𝗲𝗻𝗱𝗲r, Sulosh Pillay, Lakshmi and all the dignitaries, all the great people who have assembled there, my greetings to all of you.
First of all, this is in the presence of Sai Baba. Sai Baba simply means compassion – simply compassion. His heart is overflowing with love and compassion, and he is present all over the world.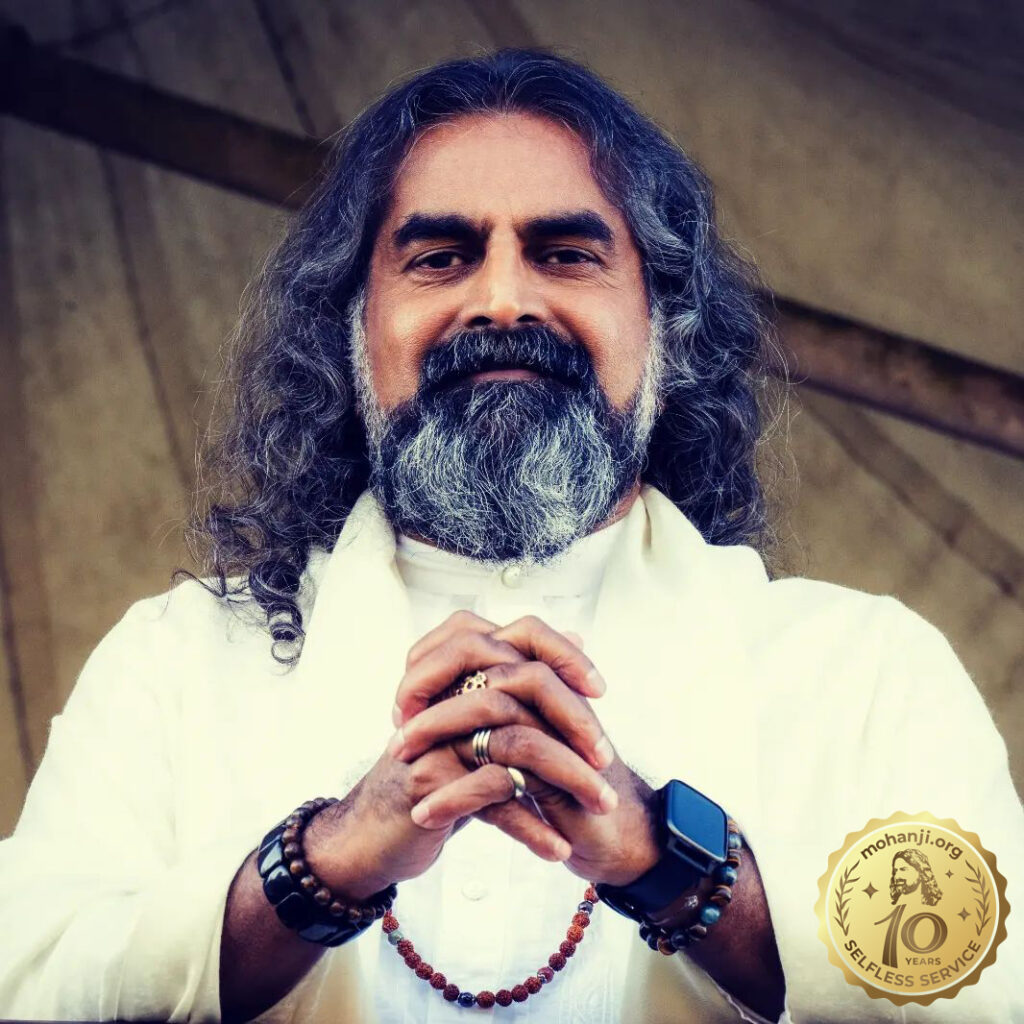 Nobody has rights – trees, animals, birds. Only human beings have rights. We don't really care about our flora and fauna.

– Mohanji
Anyway, at this time, in this place, we're doing great work. It's been my dream during the COVID times when I was watching television – we were all locked in our houses. We were all in our houses; people couldn't move out. The entire world was open to all the beings of nature, and they were really enjoying it because we've made this world predominantly a human world where no other beings have any rights.
Nobody has rights. Even the trees have no rights. Animals have no rights. Birds have no rights. Only human beings have rights. We also talk about animal rights and birds' rights etc., but we don't implement them. We don't really care about our nature – our flora, our fauna, forests; we don't care.
So, I thought it was time we launch the program to address this matter. Just simply give food to the world in a sustainable way.
We are now even serving in the Amazon forest in South America like we are working in South Africa. We are trying to bring together, like in Australia, we are bringing together all the people of nature – the tribal people, the local people who are a part of nature – bringing them together and giving them some kind of recognition, appreciation, and honour so that nature's words are heard all over the world. It's time.
We are speaking as islands, but now it's time we speak as a mainland to the entire world. South American tribes, the African tribes and Australian tribes – everybody coming together; I am working on that project now.
Fruit Tree Plantation drive
Now, coming to the Fruit Tree Plantation drive. This is happening, and wherever I go, I always initiate such projects. We've been planting many fruit trees in Turkey and in America. As we speak, it's happening in Texas. It's happening now in South Africa, and in many countries, it's happening.
Why fruit-bearing trees? Because nature is starving because of lack of food – mainly food and the animals are coming to villages, to cities, to towns in search of food, and they're getting killed. Species are getting extinct.
So, it's our responsibility as human beings to enrich nature. That's the idea behind this plantation. We do it on our own land, and we do it on every land available – in nature, cities, towns, and suburbs – everywhere.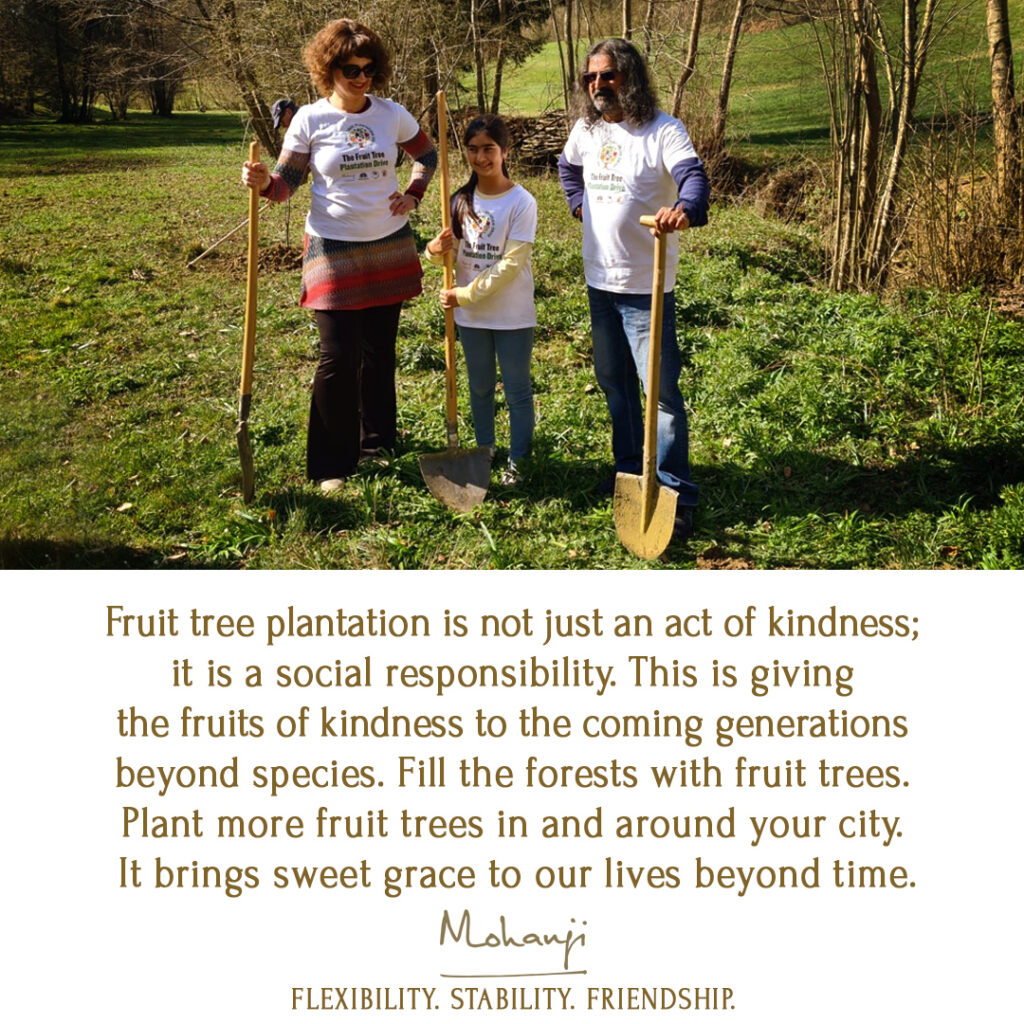 We ensure that the trees survive because just planting will not help. We've to make sure these trees, these plants survive, and the saplings become trees so that the fruits actually reach the hungry mouths.
Now, one dream I have, especially connecting to South Africa, which I had discussed with Prince Ishwar as well the last time when we met, is to create islands of fruit trees in the forests of Africa, South Africa.
We create an island, and we plant saplings. We provide drip irrigation, and when the saplings have grown to a reasonable size, we open this up for the birds and the animals and the beings of nature. Like that, we create many, many islands inside the forest, of fruit trees, inside the forest land, even reserved land.
It'll have a great effect on the wildlife of the country because there'll be enough food for every being inside the forests, for all the beings to thrive. This is my aim, my dream now.
I've discussed this matter in many countries, and people are really excited. Some people say, "We'll work on that; we'll work with the forest department to get the land etc." I'm sure we can do that in South Africa. This is where I wanted it to happen, to start from, because that's the cradle of human existence. So, we would like to see such things happening in South Africa.
I'm very happy, and I'm really honoured that I could participate in this. Thank you, Prince, for your presence and all of you dignitaries, all the honourable people there.
Especially, I would like to thank Mr Narendra Singh. We've been connected. We've been talking to each other for years now, and now, realistically, we are partnering on something which will sustain life in the country. We are actually helping every species to have a life in the country.
All our people – we are committed to that. We are all together; we are one family. We work together; we'll always be there, and hopefully, we'll see each other physically as well very soon.
I wish all of you great health, happiness, peace and success in life. We'll always remain as one family – one world, one family.
Thank you so much.
Watch the speech here.
Transcribed by Nada Raković
Proofread by Geetha K.S