Overview of Mohanji Global Initiatives - April 2023
The graphic below shows a snapshot of our activities in April 2023
Programs & Retreats with Mohanji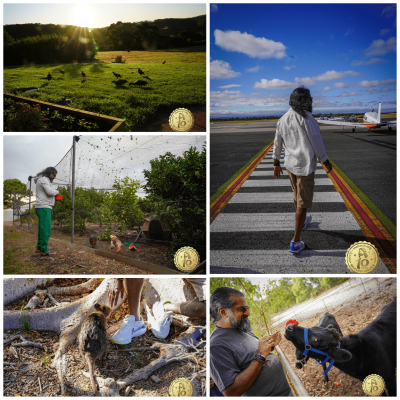 Moments From Mohanji in Australia
Some casual highlights of Mohanji's time in Perth!
MCB Australia is a sanctuary of peace where all beings coexist in harmony, where everyone is family, transcending race, gender, age, caste, religion, creed, and even species.
Mohanji
ensures that all animals, including birds, fishes and kangaroos, are well-fed every day, saying "I am truly happy only when I know that no one is hungry."
At MCB Australia, we embrace our shared humanity and recognize that we are all one. If you would like to learn more about this beautiful community and how you can get involved, please email
australia@mohanji.org
𝗠𝗼𝗵𝗮𝗻𝗷𝗶 𝗶𝗻𝘃𝗶𝘁𝗲𝗱 𝗮𝘀 𝗖𝗵𝗶𝗲𝗳 𝗚𝘂𝗲𝘀𝘁 𝗮𝘁 𝘁𝗵𝗲 𝗙𝗶𝗳𝘁𝗲𝗲𝗻𝘁𝗵 𝗔𝗻𝗻𝘂𝗮𝗹 𝗜𝗻𝘁𝗲𝗿-𝗙𝗮𝗶𝘁𝗵 𝗠𝗲𝗲𝘁 𝗶𝗻 𝗗𝗲𝗹𝗵𝗶 𝗡𝗖𝗥 organised by the 𝗕𝗵𝗮𝗿𝘁𝗶𝘆𝗮 𝗦𝗮𝗿𝘃𝗮 𝗗𝗵𝗮𝗿𝗺𝗮 𝗦𝗮𝗻𝘀𝗮𝗱 (Indian Parliament of All Religions).
This theme for this year's meet is "𝗜𝗺𝗽𝗼𝗿𝘁𝗮𝗻𝗰𝗲 𝗮𝗻𝗱 𝗥𝗲𝗹𝗲𝘃𝗮𝗻𝗰𝗲 𝗼𝗳 𝗦𝘄𝗮𝗺𝗶 𝗩𝗶𝘃𝗲𝗸𝗮𝗻𝗮𝗻𝗱𝗮'𝘀 𝘁𝗲𝗮𝗰𝗵𝗶𝗻𝗴 𝘁𝗼 𝘁𝗵𝗲 𝗽𝗿𝗲𝘀𝗲𝗻𝘁 𝗴𝗲𝗻𝗲𝗿𝗮𝘁𝗶𝗼𝗻𝘀".
This year marks Mohanji's first participation in this event. Mohanji often says, "the ocean is one, but various rivers are required to provide the right routes for people of various frequencies and inclinations". In that vein, this event promises to provide a rich perspective on the unifying aspects across all faiths while respecting the diversity inherent in them. The reference to the inspirational teachings and life of Swami Vivekananda would make the talks even more interesting to the audience.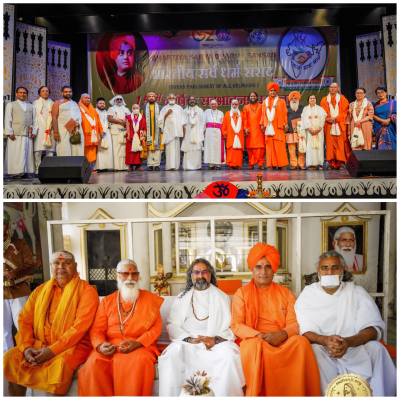 Mohanji, as the chief guest speaker, made an impactful speech. Having travelled to many countries and met many different people, he reminded the audience that we are essentially the same and that spiritual leaders & religious heads should unite and take responsibility for ensuring the right to a peaceful existence. Mohanji highlighted that his summary of Vivekenanda's teaching was "Be alert, aware and active". An alert that we are more than the body; we are the energy inside everything, aware of our actions, non-violence in thoughts words and actions and active in doing something positive for society for our own purification. Finally, be practical before being spiritual.
A special online event featuring Mohanji as a guest on the show of Master Sha and Queen Diambi! The topic of the show is "The Power of Service"
ACT Croatia, Ecuador, Ethiopia, Macedonia, Serbia, South Africa, UK, USA and all others, continue to spread happiness and cheer by donating food, fruits, stationery packs, bedding, much-needed nappies and baby formula and clothes for the toddlers, underprivileged children, endangered families and sheltered dogs and cats.
𝗠𝗼𝗵𝗮𝗻𝗷𝗶 𝗙𝗼𝘂𝗻𝗱𝗮𝘁𝗶𝗼𝗻 𝗦𝗼𝘂𝘁𝗵 𝗔𝗳𝗿𝗶𝗰𝗮 in collaboration with the 𝗣𝗿𝗶𝗻𝗰𝗲 𝗠𝗮𝗻𝗴𝗼𝘀𝘂𝘁𝗵𝘂 𝗕𝘂𝘁𝗵𝗲𝗹𝗲𝘇𝗶 𝗙𝗼𝘂𝗻𝗱𝗮𝘁𝗶𝗼𝗻 and the 𝗦𝗵𝗶𝗿𝗱𝗶 𝗦𝗮𝗶 𝗕𝗮𝗯𝗮 𝘁𝗲𝗺𝗽𝗹𝗲 (Mohanji Centre of Benevolence in South Africa) will be celebrating 𝗘𝗮𝗿𝘁𝗵 𝗗𝗮𝘆 at the temple in Nonoti, Stanger on Sunday 23 April!
This event will be graced by the 𝗛𝗼𝗻𝗼𝘂𝗿𝗮𝗯𝗹𝗲 𝗣𝗿𝗶𝗻𝗰𝗲 𝗠𝗮𝗻𝗴𝗼𝘀𝘂𝘁𝗵𝘂 𝗕𝘂𝘁𝗵𝗲𝗹𝗲𝘇𝗶, the 𝗛𝗼𝗻𝗼𝘂𝗿𝗮𝗯𝗹𝗲 𝗩𝗙 𝗛𝗹𝗮𝗯𝗶𝘀𝗮, the 𝗛𝗼𝗻𝗼𝘂𝗿𝗮𝗯𝗹𝗲 𝗠𝗣 𝗠𝗿 𝗡𝗮𝗿𝗲𝗻𝗱 𝗦𝗶𝗻𝗴𝗵, the speaker of the house Kwaduguza, 𝗠𝘀. 𝗗𝗼𝗹𝗹𝘆 𝗚𝗼𝘃𝗲𝗻𝗱𝗲𝗿 and many other dignitaries.
We are also excited to announce that 𝗠𝗼𝗵𝗮𝗻𝗷𝗶 𝘄𝗶𝗹𝗹 𝗯𝗲 𝗴𝗿𝗮𝗰𝗶𝗻𝗴 𝘂𝘀 𝘄𝗶𝘁𝗵 𝗮 𝗟𝗜𝗩𝗘 𝗯𝗿𝗼𝗮𝗱𝗰𝗮𝘀𝘁 from India! Join the LIVESTREAM on the Mohanji South Africa Facebook Page from 12pm CAT/ CET (3.30pm IST)
In honour of Earth Day and celebrating Mohanji's core teachings of adding value to earth, 𝟱𝟬 𝗙𝗿𝘂𝗶𝘁 𝗧𝗿𝗲𝗲𝘀 was donated by 𝗧𝗵𝗲 𝗕𝘂𝘁𝗵𝗲𝗹𝗲𝘇𝗶 𝗙𝗼𝘂𝗻𝗱𝗮𝘁𝗶𝗼𝗻 and will be planted at specific spaces around the Mohanji Centre Of Benevolence.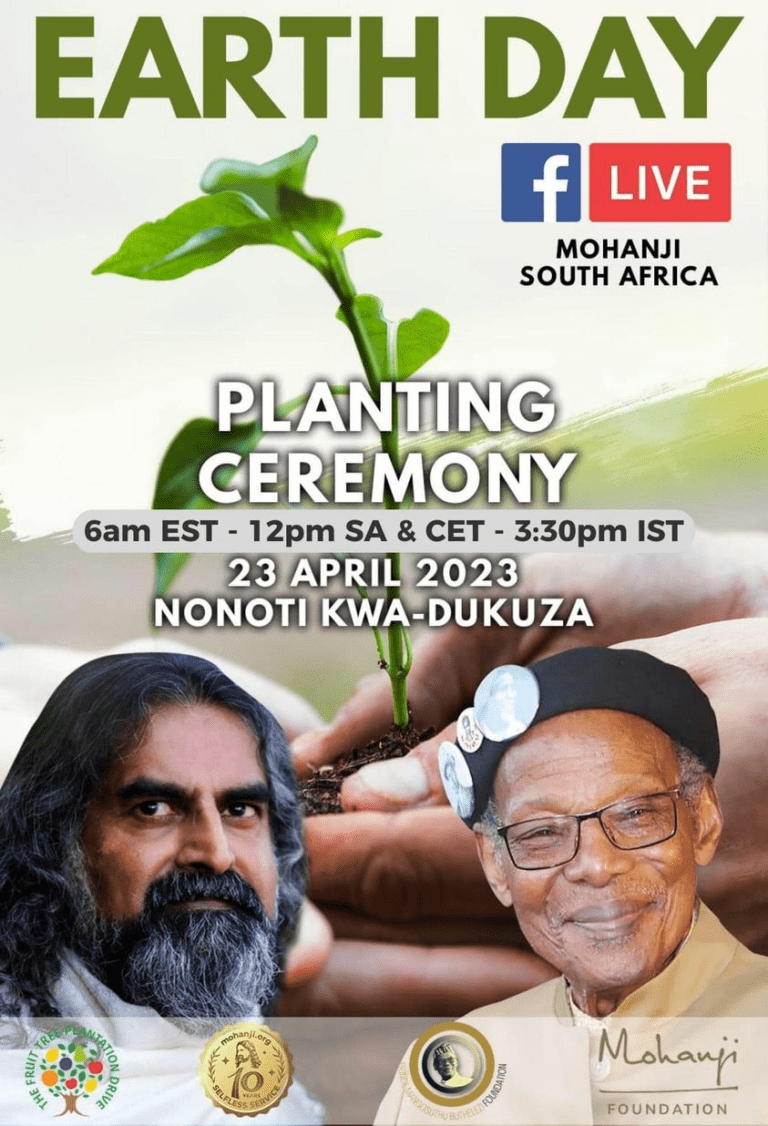 MOHANJI INTERNATIONAL Switzerland 5 continents 16 Registered Countries Active presence in 90+ countries
Serving food beyond boundaries, nationality, race, religion and species
Since 2003 Education Hunger & health Disaster relief
Since 2003 Serving humanity Helping the helpless Dignity to the poor
Join hands in becoming powerful, successful and purposeful citizens of the world!
youth organization aiming to create a global community of powerful citizens and compassionate leaders.
Entertainment & empowerment
Himalayan school of traditional Languages
Himalayan school of traditional Yoga
Himalayan school of traditional Dance
Empowering youth to express their fullest potential and live purposeful lives
Raise global awareness & consciousness through performing arts
Supporting generations to come by planting fruit bearing trees across the world
M House Media Content & Audio Visual Production
Invest in Awareness Transformation of people and business. Developing ethical businesses
Moksha Trust Renovation of the sacred temples of India
Online magazine: Mind, body and soul