Empowered 5.0 with Mohanji - India
11dec(dec 11)10:00 am22(dec 22)6:00 pmEmpowered 5.0 with Mohanji - India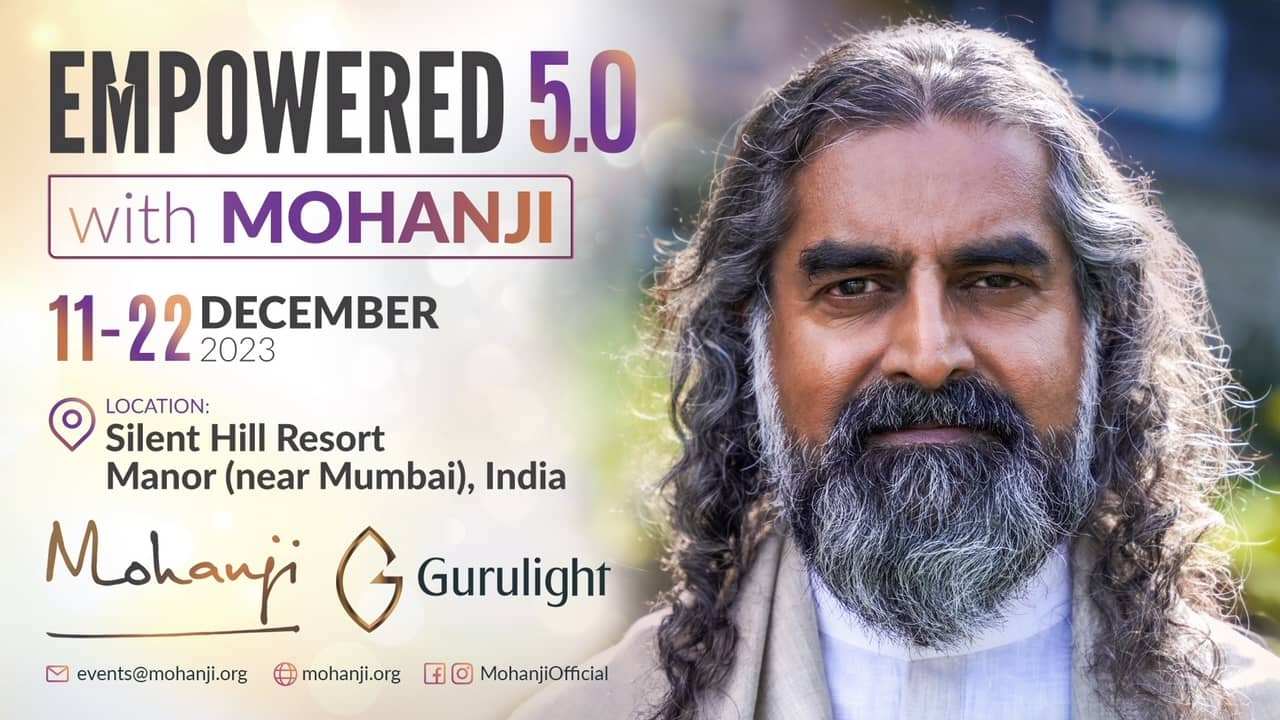 Event Details

ABOUT EMPOWERED 5.0

Experience transformation with Mohanji's signature Empowered Series, a specially curated program designed to ignite your inner potential. Deep-dive into each of these sessions that are aimed at holistic growth, guiding you towards inner silence, higher consciousness, and a life resonant with your true purpose. Enrich your spirit, refine your focus, and awaken to a transformed self.
Empowered 5 with Mohanji is a special program conducted by Mohanji Himself in an in-person format. The program is aimed at taking the participant deep into silence through intense practices that are prescribed and guided by Mohanji.

Key Spiritual & Self-Growth Benefits:
Frequency Elevation: Raise and sustain your vibrational purity.
Mindful Living: Cultivate present-moment awareness and goal-oriented focus.
Emotional Freedom: Navigate life's challenges and transcend limiting patterns.
Inner Harmony: Achieve inner peace by letting go of past traumas.
Higher Consciousness: Awaken to your true self and purpose.
Immediate Transformation: Practical, real-time methods for genuine self-improvement.
Community Bonding: Be part of a spiritually supportive network.
Personal Guidance: Direct interaction and Q&A opportunities with Mohanji.
When and Where?:
When?
A choice of taking part in a 5-day or a 10-day program.
Schedule:

| Check-in date | Program dates | Check-out date |
| --- | --- | --- |
| 11th Dec 2023 | 12 Dec- 21 Dec (10-day) | 22nd Dec 2023 |
| 11th Dec 2023 | 12 Dec – 16 Dec (5-day) | 17th Dec 2023 |
Where?
A tranquil resort near Mumbai, Maharashtra. More details to be shared soon.
How can I sign-up?
Experience Transformation Like Never Before. With only a few select spots available, we're inviting you to reserve your place early. Secure your spot by clicking the link below when you're ready.
Exciting news! We'll soon be sharing all the specifics about the event, from pricing and a detailed day-by-day schedule to helpful travel advice. Stay tuned!
For any other queries, please write to events@mohanji.org.
Time

11 (Monday) 10:00 am - 22 (Friday) 6:00 pm