Shirdi Sai Baba Pranapratishta South Africa
26mayAll DayShirdi Sai Baba Pranapratishta South Africa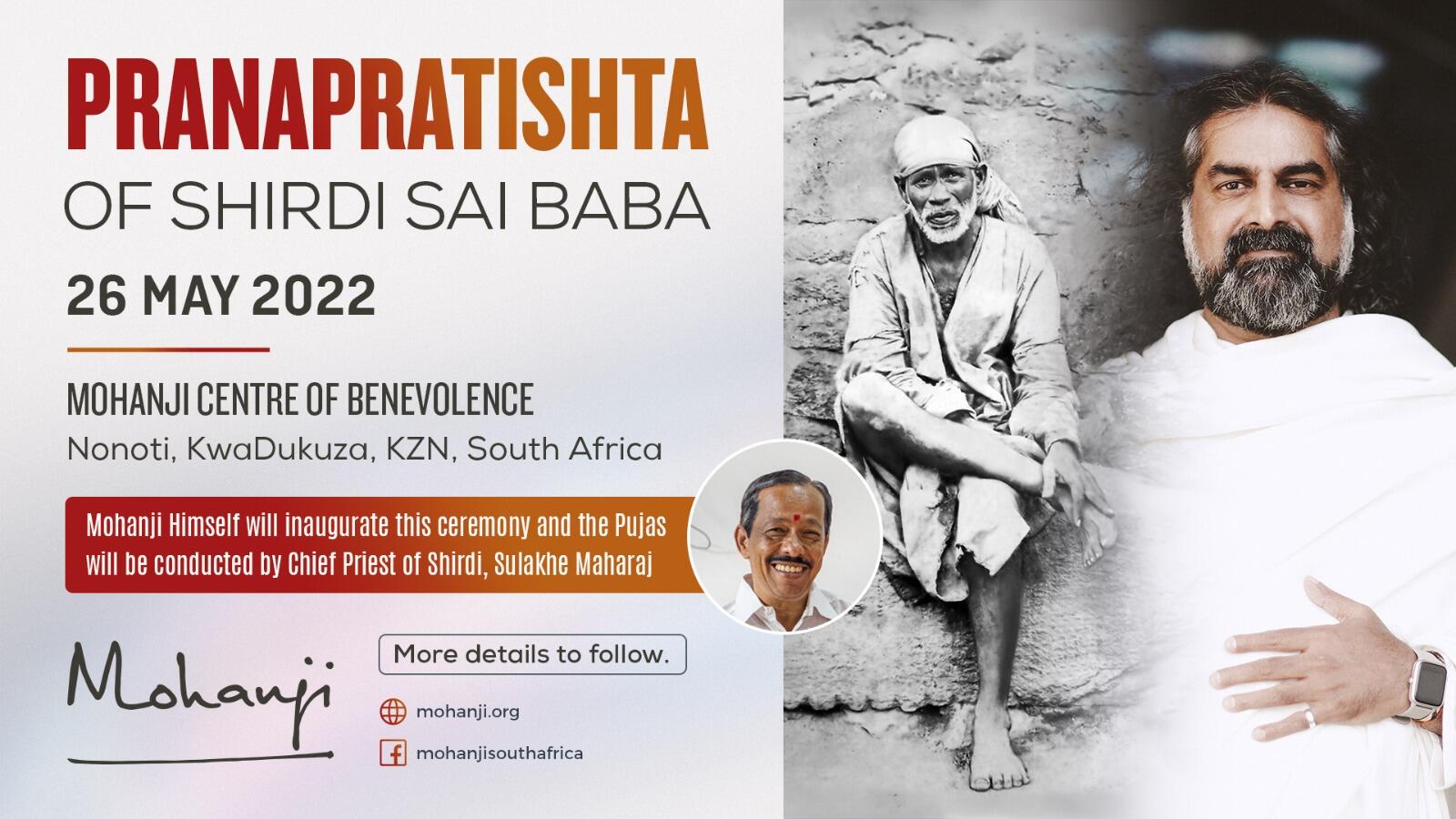 Event Details


Jai Mohanji ,

Three years after arriving in SA, our beloved Shirdi Sai Baba will finally leave His crate behind.

With Mohanji and Shirdi Sai Baba's grace, South Africa will finally install a life size Murthi of Shirdi Sai Baba. This is one of the few life size Shirdi Sai Baba Murthis in the Southern Hemisphere and possibly the first temple dedicated primarily to Shirdi Sai Baba in Africa.

This event will be graced by our beloved Guru Mohanji and Sulahke Maharaj, the Chief Priest of Shirdi. What a grand, regal celebration to introduce our beloved Shirdi Sai Baba to everyone.

You are cordially invited to be a part of this huge event. Come soak in the bliss and Divine vibrations which will be flowing in abundance for sure.

As most of you know, we procured our land in 2021 so as it stands, we have nothing on the land yet and we envisage requiring at least R450 000 (EUR 32 000) to see this project to completion before the event.

The breakdown is as follows:
Shirdi Sai Baba Temple: R230 000
Attendant's quarters: R123 000
Grading of the road: R40 000
Municipal Utilities connection: R30 000
Event costs: R100 000
Miscellaneous: R27 000

We have R100 000 thus far and we invite you to be a part of this amazing project.

The home of Shirdi Sai Baba will conduct 4 Aartis a day to both Mohanji and Shirdi Sai Baba with weekly Abishegams. This is why we need an attendant on site daily as well. We are incredibly excited at the sheer energy which such Aartis will generate not only to KwaDukuza and SA but the entire world at large.

As a very special and precious gift to us for this prestigious event, Sulakhe Maharaj himself will bless and bring along coins and Padukas. These will be blessed by him personally at Shirdi Sai Baba Mahasamadhi Mandhir. We cannot imagine the grace which is flowing and we wish to bless you with this overflow of grace as well.

Every loving contribution of R1000 (EUR 62) will receive a blessed coin.

Every loving contribution of R5000 (EUR 309) or more will receive a set of blessed Padukas.

We have 3 payment options
Via Swift/Bank transfer:
Mohanji Foundation South Africa
First National Bank
Business Account number: 6258 4435 351
Branch code: 250 655
Reference: your name/Shirdi
Swift code: FIRNZAJJ

Via PayPal:

Payfast:
Link to follow shortly

Please note that SA banks do not use an IBAN number. Only the Account number is used to correctedly route the funds.

Kindly contact the following Mohanji family for more information:
Losh +27 83 289 9321
Lakshmi +27 79 606 9396

Once you make your contribution, kindly proof of payment to southafrica@mohanji.org so that we can contact you for your special gift.