SHIRDI WITH MOHANJI 2023
04dec(dec 4)9:30 am10(dec 10)6:00 pmSHIRDI WITH MOHANJI 2023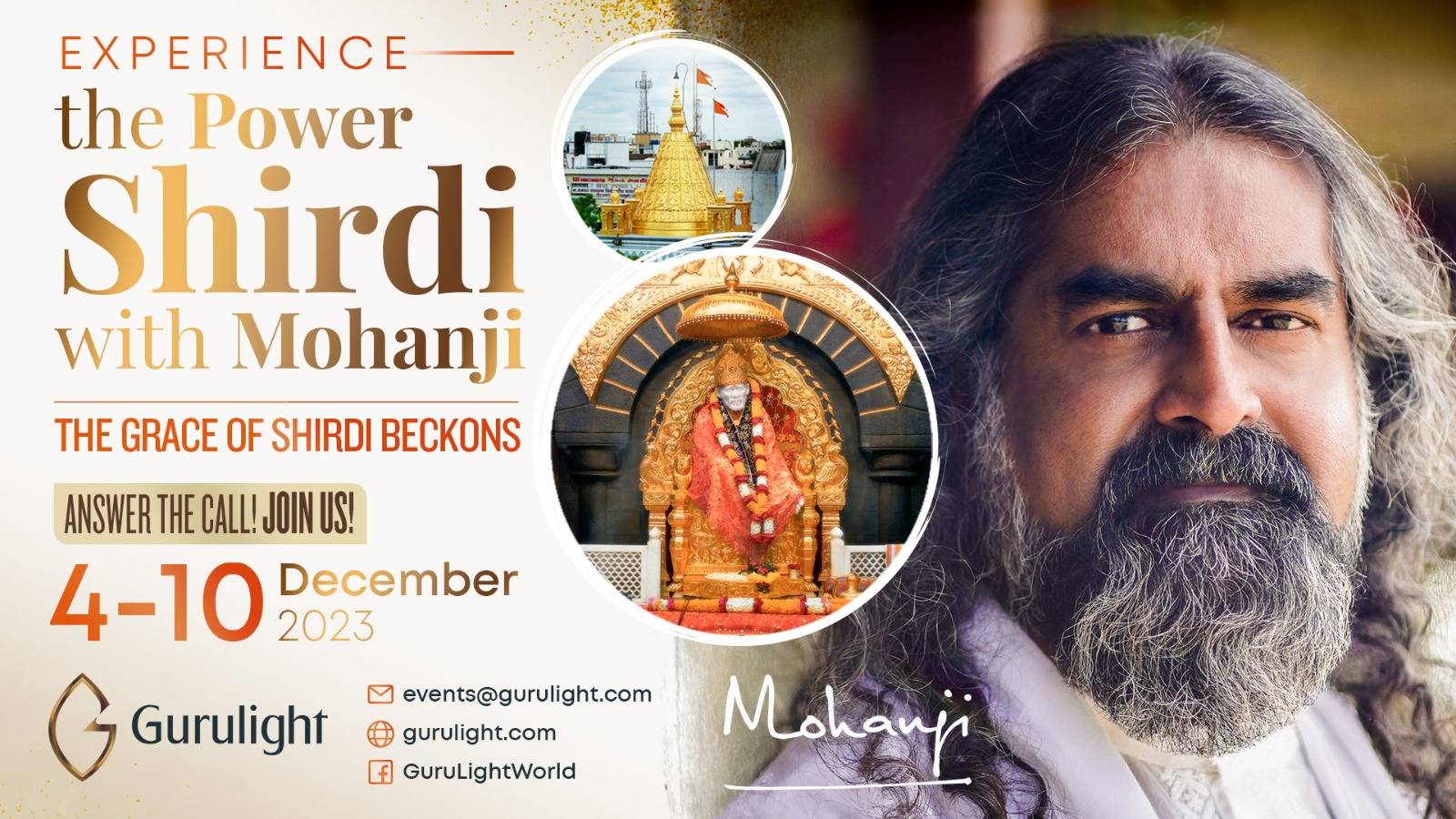 Event Details

Unlock the door to spiritual experience with a unique, non-residential pilgrimage to Shirdi this December 4-10, 2023. This is not just a journey; it's a transformative experience guided by the inspiring presence of Mohanji, who will be personally leading the 3-day program from December 8-10. Step into the world of Sai Baba, the revered saint, and find your eternal truth as you uncover a deep sense of inner peace and divine connection.

Program Highlights:
Flexible Non-residential Options: Tailor your pilgrimage to fit your schedule and budget. No need for overnight stays; attend and go as you please.
Mohanji's Special 3-Day Program: A once-in-a-lifetime chance to bask in Mohanji's guiding light from December 4th – 10th 2023
Additional Programs: Opt for 7, 4, or 1-day in-person sessions, or connect through 1-day livestream programs, each with its own array of spiritual enrichments.
Spiritual Benefits:
Deep Spiritual Connection: Meditate your way to serenity and inner peace.
Shaktipat Awakening: Receive spiritual energy transmission for heightened awareness.
Conscious Dancing: Liberate both body and mind for a holistic spiritual experience.
Expert Teachings: Gain insights from trained Mohanji Acharyas, offering teachings that enrich your spiritual understanding.
High-Energy Community: The combined energy of a community of like-minded seekers amplifies the spiritual experience, making this not just a pilgrimage, but a journey of collective soul nourishment.
Program Options
7-day program (in – person) with Homa – INR 61,990 (USD 775 / EUR 717 )
4-day Divine Trails of Shirdi pilgrimage – INR 33,990 (USD 425 / EUR 393 )
3-day program (in-person) with Homa – INR 34,990 (USD 437 / EUR 405 )
1-day program (in-person) with Homa – INR 16,990 (USD 212 / EUR 196 )
1-day program (in-person) – INR 11,490 (USD 144 / EUR 133 )
Online Livestreams: Starting at INR 6,990 (EUR/USD 83)
This pilgrimage is an open invitation to all spiritual seekers looking for a profound connection with the divine. Set against the hallowed backdrop of Shirdi, miracles are just a heartbeat away. Inner barriers crumble as you tune into the divine frequency, embracing an otherworldly sense of oneness.
Don't let this unparalleled opportunity pass you by. Mark your calendars and join us in this awe-inspiring spiritual quest in Shirdi this December!
Time

4 (Monday) 9:30 am - 10 (Sunday) 6:00 pm