Pricing, inclusions, exclusions and FAQs
6-day program
20th Mar – 30th Mar
Twin-sharing accommodation

Optional Walpole wilderness tour (Addition cost)
1-day program (online)
26th Mar
Practices incl. Group Mai-Tri

30-days of Mohanji's satsang recording
A minimum 2-day stay is requested at MCB Australia. All proceeds goes towards development of MCB and maintenance of the temples, space and activities.
Need flexibility in paying towards the program? Do not worry! We offer you to pay in two easy instalments at your convenience. Pay 50% to confirm your sign-up and the rest by 1st March 2023.
Frequently asked questions
Q. How can I visit Mohanji Centre of Benevolence - Australia?
Google Map location: https://goo.gl/maps/565o6iv9T4uxujKE6
There are three ways to arrive at MCB – Australia.
By air (Perth – Albany):
International passengers will arrive at Perth International Airport
From Perth, take a connecting flight to Albany. Rex airlines offer daily services from Perth to Albany. For schedule and booking, please visit to https://www.rex.com.au/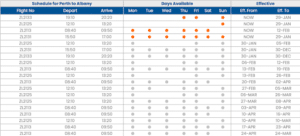 You can pre-book a car rental (Hertz, Avis, Budget) and drive down to Mohanji Centre of Benevolence, Australia. Travel time by road from Albany to MCB, Walpole is about 90 minutes.
Alternately, if there is a group of people arriving at similar time, then we can arrange for a pick-up from Albany airport terminal at an additional cost.
By Air (Melbourne – Bussleton):
If you are coming from Melbourne, Jetstar is operating flights between Melbourne and Bussleton for 3-times a week. Below is a screenshot taken from Jetstar website. You may refer to the dates and do the booking. The prices mentioned below are subjected to change and we are providing it here just for reference.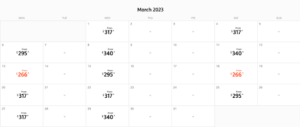 You can pre-book a car rental (Hertz, Avis, Budget) and drive down to Mohanji Centre of Benevolence, Australia. Travel time by road from Albany to MCB, Walpole is about 90 minutes.
Alternately, if there is a group of people arriving at similar time, then we can arrange for a pick-up from Albany airport terminal at an additional cost.
By Rail/Road (Perth – Bunbury – Walpole)
You can plan your journey using https://www.transwa.wa.gov.au/ and pre-book your tickets for Perth to Walpole.
Your train/bus will depart from Perth, arrive at Bunbury terminal and then a connecting bus from Bunbury to Walpole.
Alternately, if there is a group of people arriving at similar time, then we can arrange for a pick-up from Bunbury terminal at an additional cost.
Q. What is the weather likely to be in Mar' 2023?
You can expect very pleasant temperatures during the day in March. The average maximum daytime temperature in Walpole in March lies at 24.4°C (75.92°F). The average minimum temperature is 12.8°C (55.04°F) (usually the minimum temperature is noted at night).
The amount of rain during this month is moderate with an average of 38mm (1.5in). It rains an average of 8 days of the month. March is known as one of the best months to visit Walpole.
Bring a rain jacket just in case since it will be raining a few days during this period. Also bring your shorts or a skirt because it can be very warm or even hot. At night it can still cool off so best to pack some warmer nightwear as well.
Q. How should I pack for my travel?
We recommend that you carry a combination of warm clothes (puffer jacket, fleece, etc.), and summer clothing (t-shirt, skirt, shorts etc.) as it might get a little hot during the day time and cools down during the evening.
Other important items to carry with you:
Head torch light

Mobile Phone charger

Telstra SIM card (no other network works)

Sunscreen lotion

First-aid medicines

shoes/boots to cover your ankle

Swim wear (if you are going to swim in the ocean or river)

Cap/Hat

Sun glasses

Walking shoes

Yoga Mat
Q. Will you arrange for an airport pick-up?
At this stage, we do not have plans to arrange for airport pick-up. We are considering arranging for pick-up and drop-off to Bunbury and Albany depending on the numbers. If you are flying in to Perth, we would request you to come to Bunbury (by train/bus) so that we can arrange for a pick-up / drop at an additional cost.
Q. I find this price expensive. Why is it so?
The pricing for the progam is worked out based on various factors. Besides the operational expenses, we are sure you will appreciate the fact that all your contributions will go towards further development of Mohanji Centre of Benevolence, Australia. 
You will have the golden opportunity to spend your quality time in the presence of Mohanji, witnssing the pranaprathista (consecration of idols) of Lord Ganesha, Shirdi Sai Baba, Lord Dattatreya and Ma Anahalakshmi. 
In addition to this, you will have the opportunity to spend quality time with your SELF and the Nature, establishing a deep connection within and help you get back to your routine with increased efficiency and a sense of calm. As they say, "attending a spiritual retreat provides a  safe space where you can experience complete renewal and gain a high level of self-knowledge. For those who believe in God or in any other higher power, it's also the perfect setting for a profound meeting with it."
Q. I would like to spend additional time at the Mohanji Centre of Benevolence. Is it possible?
We encourage you and welcome you to stay for a longer duration at Mohanji Centre of Benevolence Australia not just this time around, but anytime. It will give you a perfect opportunity to spend quality time in a spiritual power centre and practice the teachings of Mohanji. For additional details, including extended booking, please contact australia@mohanji.org
Q. What are the payment terms, and cancellation policies?
DEPOSITS: We encourage you to pay the initial amount (50%) immediately to confirm your booking and your participation. All deposits are non-refundable.
PAYMENT BALANCE: The remaining balance (total price minus deposit) is due by 1st of March 2023.
CANCELLATION INFO: If you had made a full payment and would still like to cancel, then 50% Balance (not incl. 50% deposit) will be refunded for cancellation. Please note that the cancellation request will not be accepted after 14-Mar-2023.
When signing up for our retreat through our site the cancellation policy above will apply to your sign-up.
We know that sometimes things comes up, and unexpected events happen that can keep you from going on a trip you've planned. If you're totally sure you aren't able to make it to the retreat, the best thing you can do is cancel. 
OUR INTENTION
It's our intention to make things as simple as possible for anyone who wants to go on a retreat, while balancing the administrative and business realities of those who run retreats.
TO CANCEL YOUR RETREAT:
Email : australia.events@mohanji.org 
Include your contact number to discuss th reason for cancellation. 
CANCELLATION DISPUTES
We have the final say in all disputes over cancellations and of course will try to solve the issue. We intend to approach all issues with understanding, flexibility and compassion. From that place, a solution can always be found.
Q. What is Mohanji Centre of Benevolence and Why should one visit?
Mohanji Centre of Benevolence is:
A physical space for the refinement and spiritual upliftment of mankind.
A place of rejuvenation for the body, mind and soul, through spiritual practices, yoga, meditation, vegan food.
Centre for charitable activities such as Annadaan (Food donation) and vastradaan (clothes distribution). Besides, our centre is committed to support and be a part of our community and beyond in all benevolent ways possible.
A place which is a living demonstration of compassion and benevolence to all beings.
A training centre for the Himalayan schools of traditional yoga, dance, music and language and a centre to know more about the Datta tradition that empowers you, energizes you, protects you and provides Gurus/Masters for you to connect and talk to. The Tradition which reduces burdens and opens channels within for grace to flow.
Mohanji centre of Benevolence gives you an opportunity to connect to your true SELF, to restore your energies and the opportunity to let go of fears, phobias, confusion, and all other mind-matter related aspects that drains your energy. You will learn to nurture yourself, restore a sense of balance and well-being, and open up to nature.
A visit to Mohanji centre of Benevolence allow you to go deeper with Mohanji's guided meditations and various other techniques provided by Mohanji in more detail. Many people around the world have experienced profound realisations or touched deep experiences of calm and joy while in retreats with Mohanji.
Q. What Mobile network will work at Mohanji Centre of Benevolence?
To get the most out of your time at the centre, we also suggest that you give yourself a 'smart-phone-free' time – either turning it off or putting it to flight mode for the duration of the retreat. 
If you do need to keep your phone on, we ask that you put it to silent mode and refrain from using it in or near the accommodation buildings or anywhere that will disturb others. 
Note: Only Teltstra network and other services providers that uses telstra (e.g. Boost, Aldi, etc.) will work within the Premises. We encourage you to purchase a Telstra or Boost pre-paid sim card at the airport and recharge it based on your requirements.