Rise & REVIVE with Mohanji
02sep2:00 pm5:00 pmRise & REVIVE with Mohanji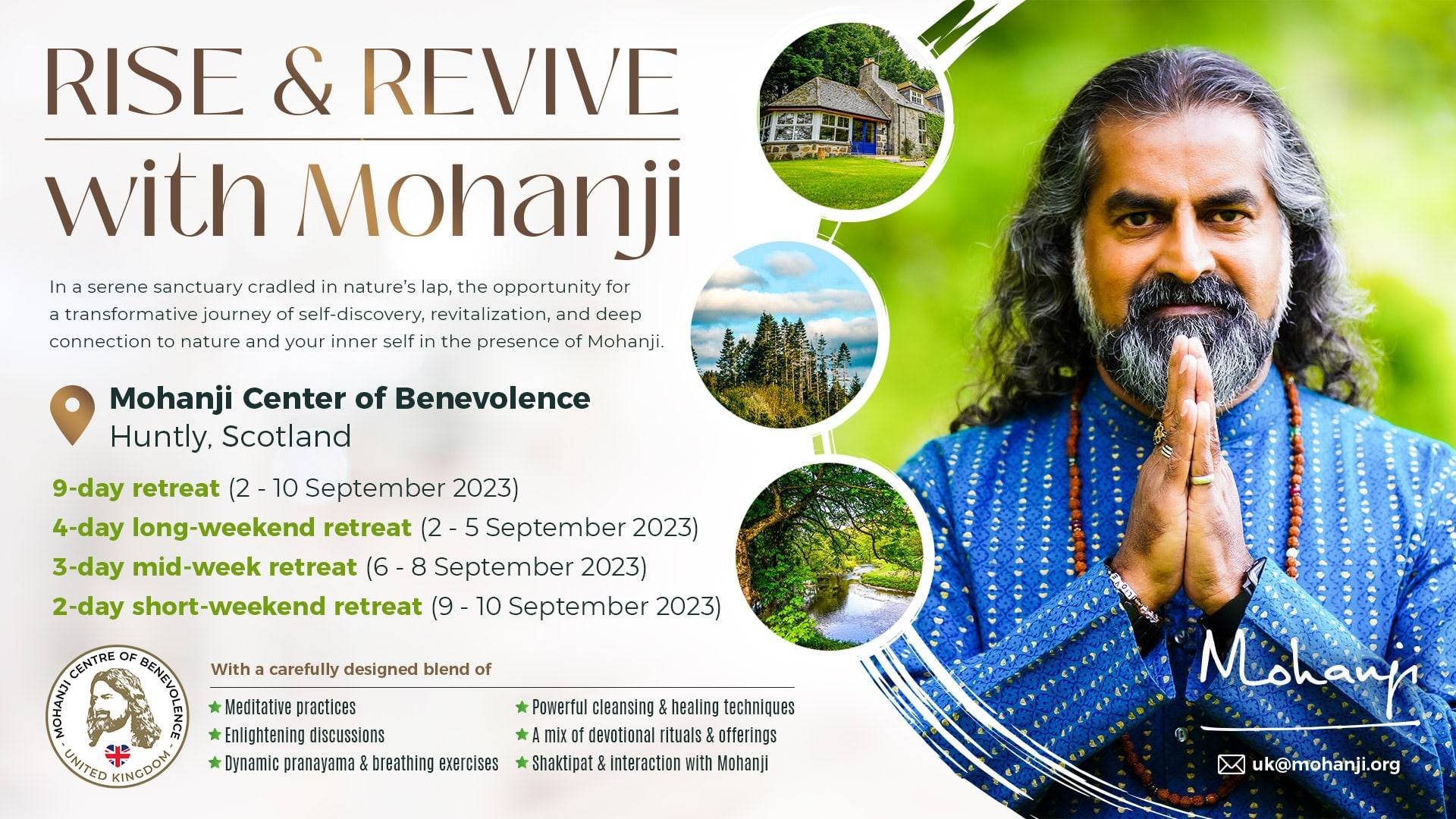 Event Details

Rise and Revive with Mohanji

At – Mohanji Centre of Benevolence, Huntly, Scotland
2nd to 10th September 2023

Are you yearning to reach your higher potential and unlock the mysteries of your deepest inner self?

Have you been searching for a transformative experience for a life of harmony and self-realisation?

Welcome to our enchanting spiritual retreat! A sanctuary of growth and awakening, where you will embark on a transformative journey of self-discovery like no other.

Rising to your higher potential requires dedicating time and focus to pursuing an insightful recognition of yourself, ultimately creating a deeper connection to your core inner being.

Within the serene embrace of the Mohanji Centre of Benevolence, you will learn how to unlock the steadfast stability within – helping you to navigate life's challenges more quickly – with grace and resilience.

Guided by the transformative paths of Bhakti Yoga, Karma Yoga, and Jnana Yoga, you will undergo purification and alignment, reviving your spirit and awakening your soul to new possibilities.

Step onto the radiant path of Raja Yoga, the path of dissolution, where self-acceptance, self-love, and self-realisation flourish. Let go of past burdens and embrace a life filled with compassion and love for all living beings.

Our holistic approach extends beyond the self, fostering pure synchronicity with the elements of nature, leading to a profound understanding of the interconnectedness of all existence.

At the heart of our retreat stands a revered master, Mohanji, whose wisdom and transformative teachings have touched the lives of countless individuals. In the presence of Mohanji, you will experience a metamorphosis that will empower you to embrace your true potential to live a life of purpose and fulfilment.

Attend the retreat as per your availability and situation. You may choose any of the following options:
4-day long-weekend retreat (2nd to 5th Sept)
Please note – for Residential option, check-in on 1st Sept evening and check-out on 5th Sept morning)
In addition, the following Non-Residential options are available too:
9-Day non-residential retreat (2nd to 10th Sept)
3-day mid-week retreat (6th to 8th Sept)
2-day short-weekend retreat (9th & 10th Sept)
If you want a taste of the retreat, you may choose individual days to drop in as a single-day option.
The programme will begin around 9 AM and finish around 7:30 PM after dinner.
All activities will be conducted, along with meals, at the
Mohanji Centre of Benevolence, Small Burn, Cairnie, Huntly, Aberdeenshire, Scotland, AB54 4UE
UK
Programmes & Activities offered during the retreat
A carefully designed blend of:
Meditative practices
Enlightening discussions 
Dynamic pranayama & breathing exercises
Powerful cleansing & healing techniques 
A mix of devotional rituals & offerings – Homa (Fire Ceremony), Arati, Bhajans (devotional singing)
Shaktipat & interaction with Mohanji
Daily programme details will be shared with participants nearer the time.
Spiritual activities & programmes mentioned above
Vegan Lunch & Dinner. Water, tea & fruit throughout the day.
Access to the Centres designated spaces for activities and outer spaces to relax
A welcome goody bag for all participants
Professional photography & videography during the retreat
(Residential option at offsite accommodation, including transportation to and from the centre)
| Options | No of Days | Fees |
| --- | --- | --- |
| | 4-day long-weekend retreat (2nd to 5th Sept) | Accommodation Fees – £500 |
(Non- Residential option with own accommodation and transport)
| Options | No of Days | Fees |
| --- | --- | --- |
| | 9-Day NON-Residential (2nd – 10th Sept)9-Day programme attendance without accommodation & transportation. Vegan Food included. | |
| | 4-Day NON Residential (2nd – 5th Sept)4-Day Long weekend program without accommodation & transportation. Vegan food is included. | |
| | 3-day Mid-week retreat (6th to 8th Sept) 3-Day Program without accommodation & Transportation. Includes Vegan Food. | |
| | 2-day Weekend retreat (9th to 10th Sept) 2-Day Weekend Program without accommodation & Transportation. Includes Vegan Food. | |
| | One day drop-in (Any day from 2nd to 10th Sept)Single Day ticket without accommodation or transportation. Vegan Food is included. | |
Early Bird Discount of 5%, if payment made by 5th Aug
Family discount of 10% if more than one person from the same family joins
Not included in the retreat:
Flights
Visa fees
Airport transfers
On-site accommodation
Breakfast for non-residential options
Mohanji Centre of Benevolence is a Vegan sanctuary. Hence NO food with animal products is allowed on the premises.
Smoking, alcohol, or any other intoxicants are NOT allowed on the premises
Children 11 to 18 years can participate in the retreat but should be supervised and are the sole responsibility of the parents.
Mini/bus transportation to and from accommodation will be strictly at a specified time. If you are not ready on time and miss the mini bus, please make your arrangements.
Budget accommodation will be in a shared bunk-bed room with basic facilities. Rooms vary in capacity from 3 to 8 people. Toilets and showers are shared.
Luxury accommodation will be a shared room for two people – double or twin beds.
Continental Vegan Breakfast is provided at the accommodation. (Bread, jams, vegan spread, cereal, fruit, tea & coffee and vegan milk)
For non-residential options, breakfast will not be provided.
Only some areas in the retreat premises are suitable for wheelchair access.
Please be prepared for Scottish weather. Bring warm clothing, socks, jackets, raincoats, waterproof shoes, umbrella etc.
Please bring a yoga mat if possible. Weather permitting, we may have activities that require one.
We have two temples on the premises – Shirdi Sai Baba Temple and Lord Dattatreya Temple, in which an Arati ceremony will occur every day at 9 AM, 12 NOON and 6 PM. You are most welcome to join these rituals and enjoy the Bhakti Yoga aspect. However, if you prefer not to attend, you can sit silently and relax in the garden or activity areas.
Ladies during their monthly cycle, are not permitted to enter the temples.
Please do not enter the private main house on the premises. Strictly for RESIDENTS only.
Please respect the sacred ambience and everyone around with your words, behaviour, and clothing. Non-violence is the primary practice at the centre.
Email: uk@mohanji.org
Call: +44 7709 532849 / + 44 7918197896
Time

(Saturday) 2:00 pm - 5:00 pm
Location

Mohanji Centre of Benevolence, Huntly, Scotland