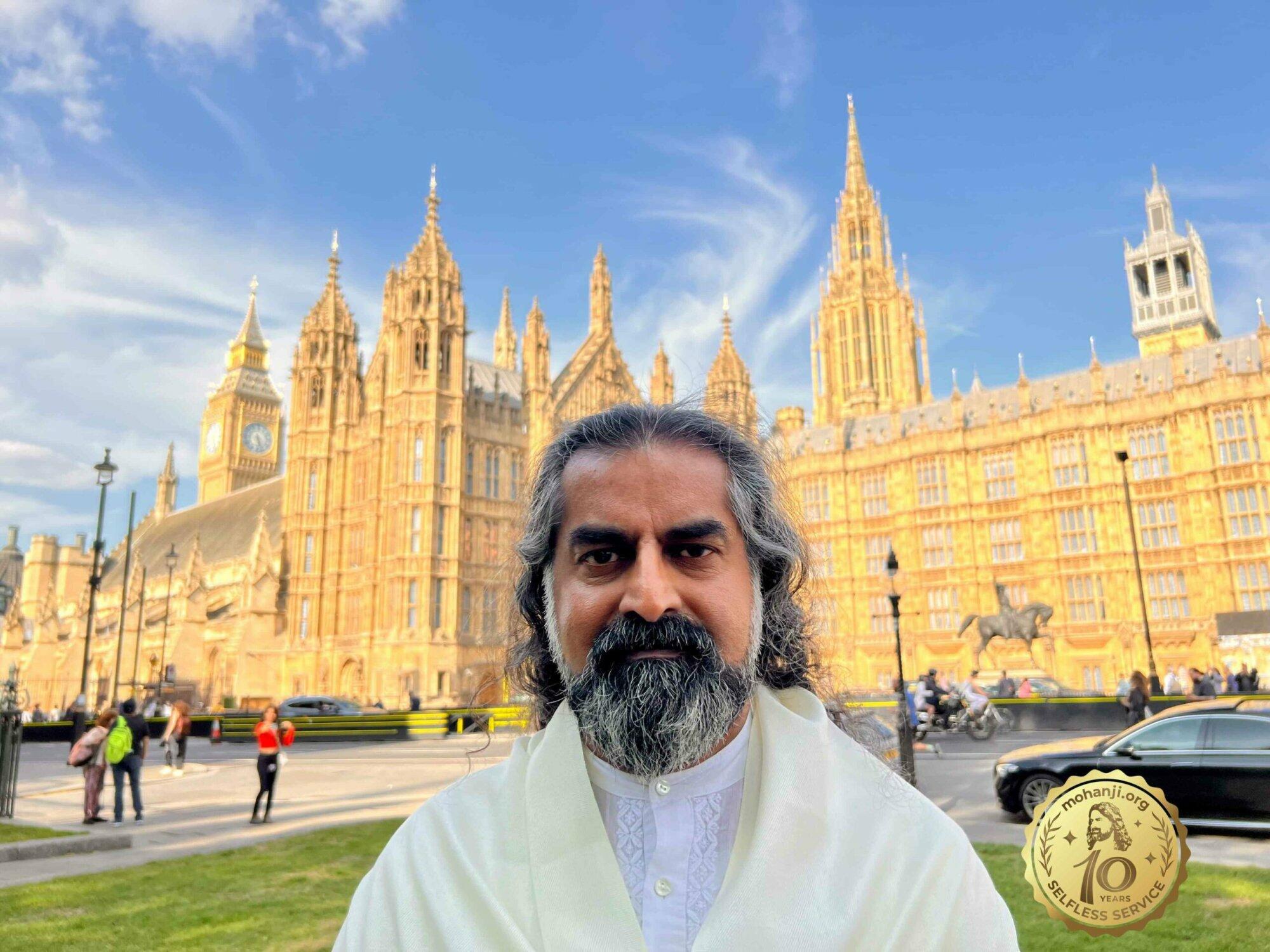 Mohanji at the House of Commons London
The 24th May was a monumental day that saw Mohanji invited to talk in the House of Commons in the British Houses of Parliament, London.
The event, titled 'Seva for Humanity', was arranged by the office of Bob Blackman MP and was held in partnership with The Hindu Forum of Britain (HFB).
The theme of the talk, Seva (Service) for Humanity, was perfectly suited to Mohanji, whose talk provided a wonderful, elegant demonstration of his message that sees inner-contentment and peace, and external compassionate action and service, as being absolutely intertwined.
In his speech, Mohanji first pointed out that there is greater need for communication, relationship building and connecting within today's world that is becoming increasingly fragmented and digitised. With the rise of social media and AI, many people, and especially the younger generation, are becoming more and more disconnected from the world of basic, community-based social interaction. When such interactions fall apart, Mohanji tells us, coming together and doing something worthwhile in the world becomes increasingly difficult.
Mohanji continued to say that when we arrive at the point where we are actually able to come together with a common purpose, our first and foremost aim should be to feed people. To illustrate this, he gave the example of the centre that Mohanji Foundation founded in Nanoti, South Africa, one year ago. The centre, which is centred around its Shirdi Sai Baba Temple, freely serves food to all local people who wish for it. According to the local police, since the installation of the temple and beginning of the food service programs, the crime rate has reduced 80% in the area. This, again, is a testament to, and proof of, the power of Mohanji's vision that sees spirituality and service as one benevolent force – as one compassionate movement in the world.
On the broader topic of spirituality, Mohanji said: 'Spirituality simply means connecting with yourself. If you have recognised yourself, if you have accepted yourself, then you are spiritual. It doesn't matter which God you believe in, or which guru you believe in, or which path you are on – it has no value. Do you value yourself? Do you believe in yourself? Are you accepting yourself? Are you connecting with yourself? If you are, and if you are stable because of that, then you are spiritual. You don't need a guru for that. All the Masters who walked this path believed in themselves. That's why we respect them. We worship them because they know knew that their existence had relevance, and they did they proved it, they actually delivered.'
Mohanji said that it is along these lines, of living a purpose-driven life, that we must be determined to reinvent ourselves as individuals and as a society. There is no excuse for pointing the finger, or putting the blame upon others, says Mohanji; simply having a passport that connects us with a certain country means that we have a responsibility for the life of ourselves and others within that land. If all of us were to act with this principle in mind, then certainly the world would be a different place.
Mohanji affirmed that when our personality, our world of limited, self-centred, personal concerns, become diverted towards purpose – when 'personality becomes purpose' – then 'we become important in society.' 'When you have purpose, you become important. And when purpose matures, you become a presence. That's what Masters are. Personality to purpose to presence. Presence even lasts much after your death; you become immortal. Because your presence becomes so powerful, it becomes an inspiration to the generations to come. Your relevance is what you do on earth when you are alive. And when you become a presence, people look at you as a benchmark. That's how it should be.'
Finally, Mohanji addressed the topic of education by saying that 'we should have less teachers in schools and more counsellors' so that children actually learn to be content and stable within themselves by nurturing their own uniqueness and creative expression. He went on to say: 'If you are not happy within yourself, or with what you're doing, then you will never be effective. Most of the people, most of the education today is based on good job and good money. Money cannot guarantee happiness. But if you are comfortable and happy with what you're doing, then it doesn't matter whether there's money, because there is satisfaction.' As today's children are tomorrow' adults, the future custodians of this world, there could not be a more pertinent message than this from Mohanji. If today's children are stable and content, then our society will surely have a stable and harmonious future.
Whether or not we know anything about Mohanji and his work, just to listen to him speak is enough to get a glimpse of the tremendous conviction and determination that is required to bring about real change in this world. Mohanji has made clear that he has no wish to be idolised or put on a pedestal; he is here to empower others, to give, to make a difference, and to walk what he talks. His first talk in the House of Commons will surely be remembered as a unique moment where a man of real conviction, and a genuine force of positive change, entered the parliamentary sphere in Britain where such change should, ideally, be effected every day.
After the talk, we proceeded to honour the key dignitaries of the organising committee and event: Trupti Ben Patel, Pravin Amin, Velji Vekaria & Swamini Surya Prabha Devi, of the Hindu Forum of Britain and Sadhvi Bhakti Priya Bharti of the Divya Jyoti Jagrati Sansthan.
We would like to extend our heartfelt gratitude to the Honourable MP Bob Blackman and his team for proposing the event and to Trupti and the whole team, the Hindu Forum of Britain, for a great partnership and friendship in organising the event as well as to the following people who attended the event: Wokingham Conservative Councillor Laura Blumenthal, Nitin Metha MBE & Head of Rajasthan Association UK Harendra Singh Jodha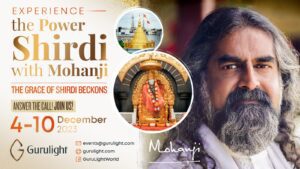 Overview Embark on a sacred pilgrimage to Shirdi with Mohanji, a journey that transcends mere physical travel. This
Read More »
During Spring and Summer, the Mohanji Foundation was as busy and active as ever. We opened new physical
Read More »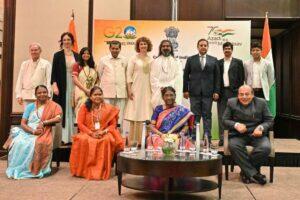 On 7 June 2023, Mohanji was invited to attend a Community Reception with the President of India, Smt
Read More »