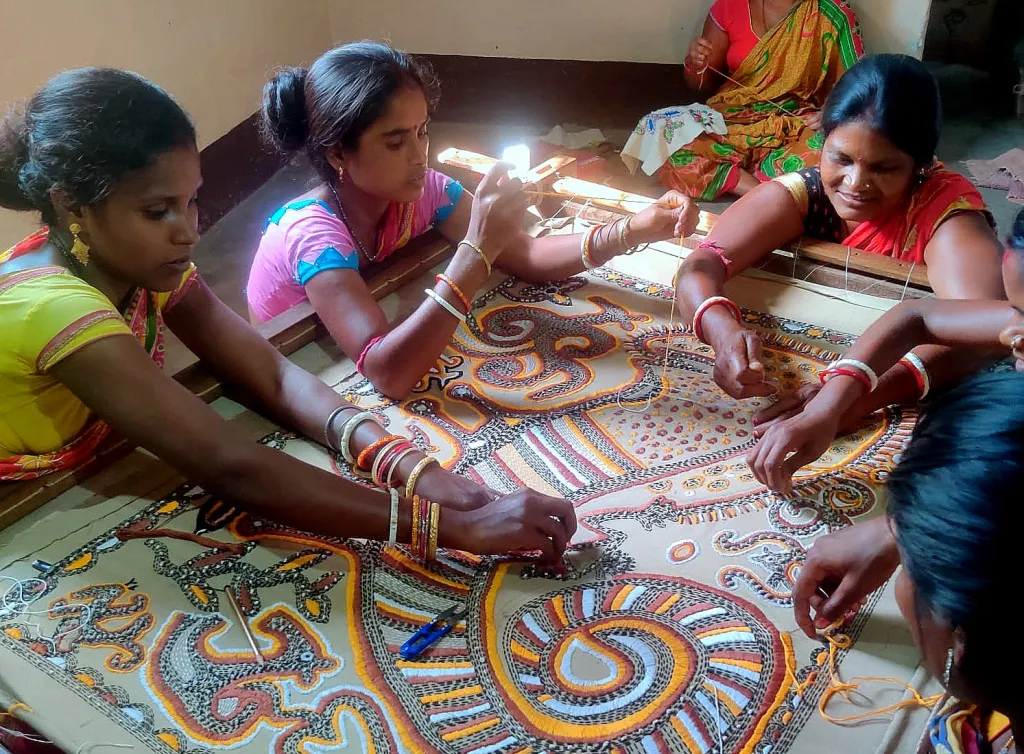 NGO doing commendable work for women empowerment near Jamshedpur
Jamshedpur, Oct 31: Mohanpur, a small village under Gamharia block in the adjoining Seraikela-Kharsawan district is emerging as an epicentre of women's empowerment, thanks to Ahimsa Imprints, a non-governmental organization, now operating there.
Begun in 2018 by Ammucare Charitable Trust, a pan-India non-profit organization established by Mohanji, a global humanitarian and philanthropist, the Ahimsa Imprints' declared aim is to improve the lives of the underprivileged people across the region, as well as education, healthcare, empowerment and environment among others.
The project appears to have delivered many positive outcomes—the most significant being the beginnings of a brand that combines rural women's empowerment with sustainability.
The women's skill training centre, which started from a single room with no electricity teaching embroidery and sewing, now sells products under "Ahimsa Imprints".
Madhusudan Rajagapolan, CEO, Mohanji Foundation, a sister organization of Ammucare, said that the brand's main objective is to promote the principles of sustainability, non-violence, compassion and respect for all beings.
"Mohanji is a spiritual teacher and a humanitarian. His aim is to promote peace, love and compassion among all beings. All our volunteer-driven initiatives across 15 countries across 5 continents–these include meditation, self-development programs, and social service projects—are aligned with this ideal," observed Rajagopalan while talking to lagatar24.com.
Ahimsa Imprints products include home décor and utility products such as cushion covers, table mats, runners and coasters, wall art and fashion accessories such as bags and totes, scarves, fabric jewellery, and organisers among others.
Besides occasion-specific event and conference gifting products, yoga mats, bags, meditation mats, and chanting pouches are created for spiritual and wellness retreats.
"Ahimsa Imprints is based on the ideology of 'Empowered Women and Responsible Products'," said Nikunj Naredi, Vice-President, Ammucare, while talking to this correspondent.
"Our focus is on minimal fabric wastage with a hope to reach zero wastage. Fabric scraps and cut-outs are not thrown away, but instead sorted and stored to be used later in innovative and creative ways for product creation," she pointed out.
"We've delivered for the IVF Centre of the Army Hospitals at Pune, Bhopal and Delhi, customised Diwali gift orders, masks orders for corporates as well for Mohanji USA and Canada; and customised orders for cafes," said Ms Naredi.
She informed that the future plans are to establish, within India and globally, the Ahimsa Prints brand as an authentic expression of India's indigenous art traditions.
Ms Naredi, who also heads the School of Fashion Designing at Jamshedpur's Arka Jain University, brings to the project top drawer capability and experience. Her CV lists the National Institute of Fashion Technology (NIFT) as her alma mater, as well as her experience with several marquee brands such as Gucci, Armani, Valentino, Heidi Klein, Marie Chantal and Susann Eschenfelder, among others.
"The project has given Mohanpur's women a whole new identity as skilled individuals and as new earning members of their respective families. If we create enough brand traction for Ahimsa Prints, we will be able to provide a space to empower every woman in the village and to help them build a future for themselves and their children," said Ms Naredi, adding that the newly-found confidence among the Mohanpur women is the Ahimsa Imprints' biggest reward.